Royal succes for Café Kølbert!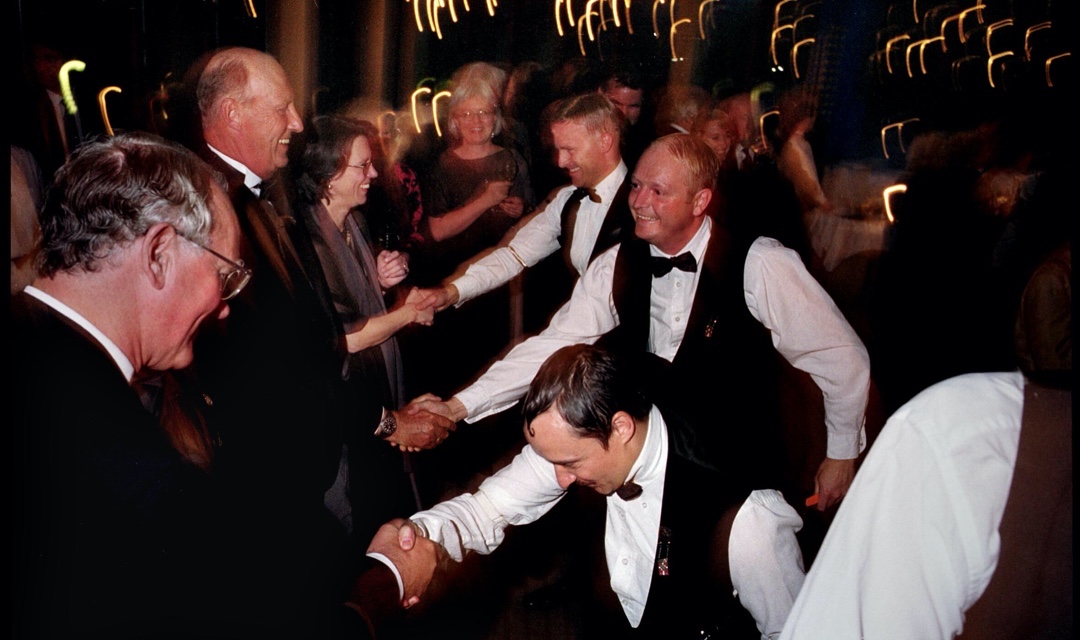 Norges konge takker Café Kølbert.
Morgenavisen Jyllands-posten den 26. maj 2000
af Lisette Arent Greve
Det århusianske serveringsteater har fået royalt håndtryk og stor opmærksomhed ved Norges internationale festival "Festspillene i Bergen", der finder sted i disse dage.
Norges kong Harald og dronning Sonja havde aldrig oplevet noget lignende.
Og da slet ikke ved hofballer og receptioner i det danske kongehus.
Men nu ved de, hvor uopdragne og pinlige danske tjenere kan være og samtidigt slippe godt fra det.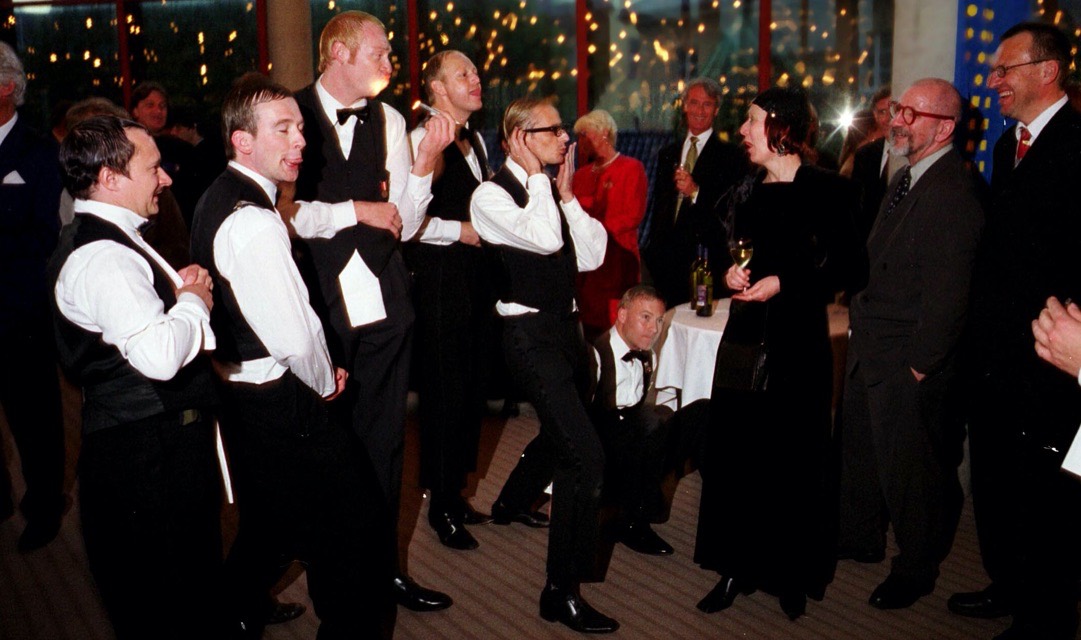 Kong Harald skal ifølge forlydender have storgrinet ved mødet med det århusianske serveringsteater Café Kølbert,
der i forgårs "vartede" op ved den højtidelige åbningscermoni af Norges internationale festival,
"Festspillene i Bergen".
Ved den efterfølgende reception for særligt indbudte gæster,
gav kongen hånd og takkede samtlige otte tjenere i serveringsteateret.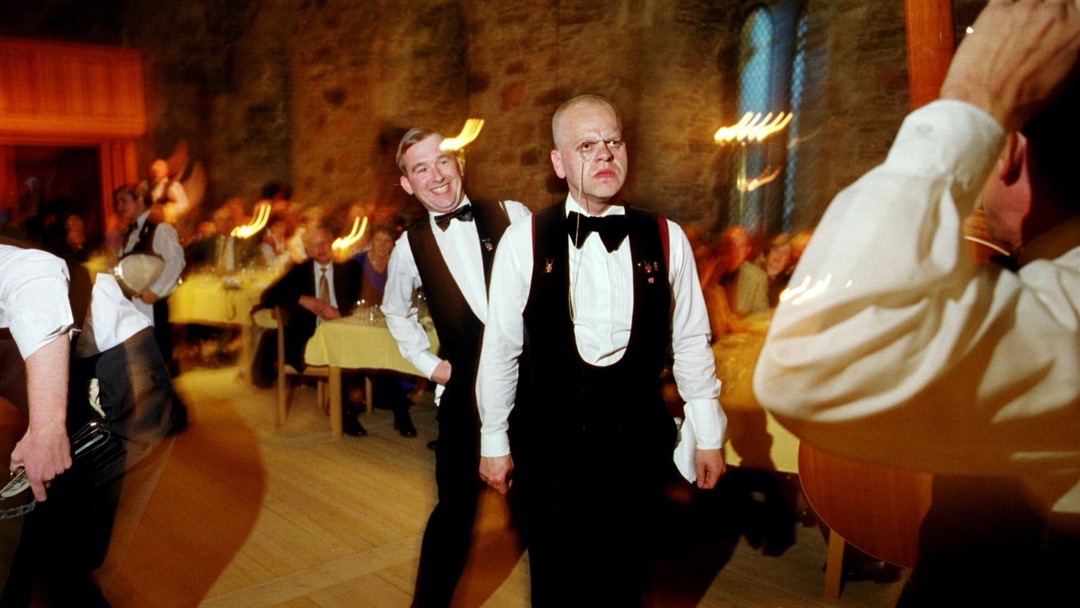 "Det var en ganske vidunderlig oplevelse," beretter tjener Kalsbøll, hvis stab bevarede stilen hele vejen igennem.
Således følte overtjener Gade sig kaldet til at spørge kongen, om han nu også var blevet ordentlig indlogeret i Bergen …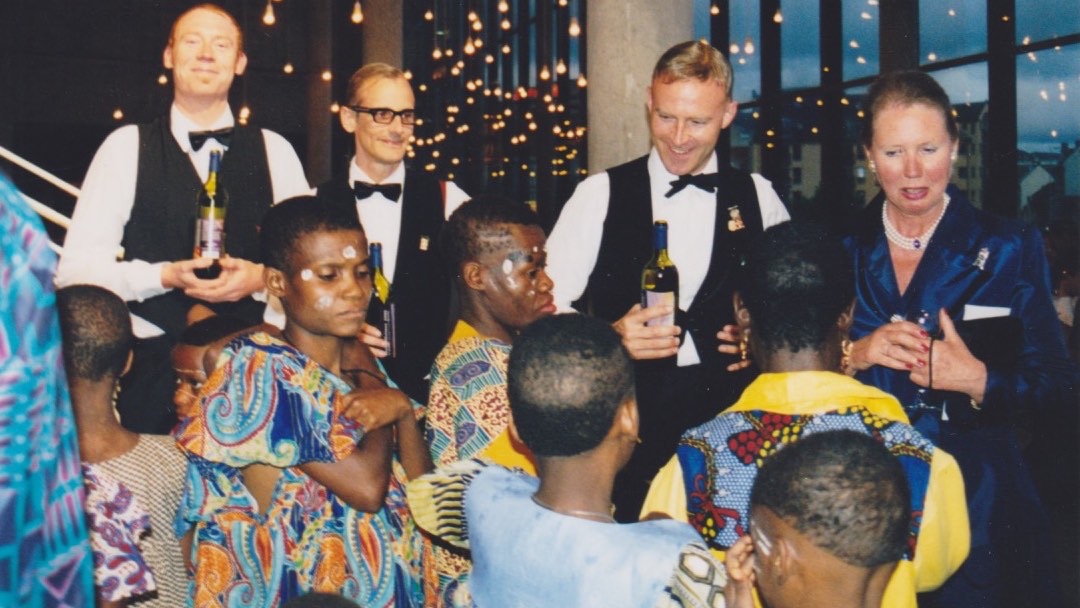 Og tjener [frk] Overgaard vandt en vis respekt i forsamlingen, da hun greb fat om en moden herres skaldede isse, og efter intensiv pudsning, gav ham et kys midt på den blankpolerede plet.
Den viste sig at tilhøre byens Politimester!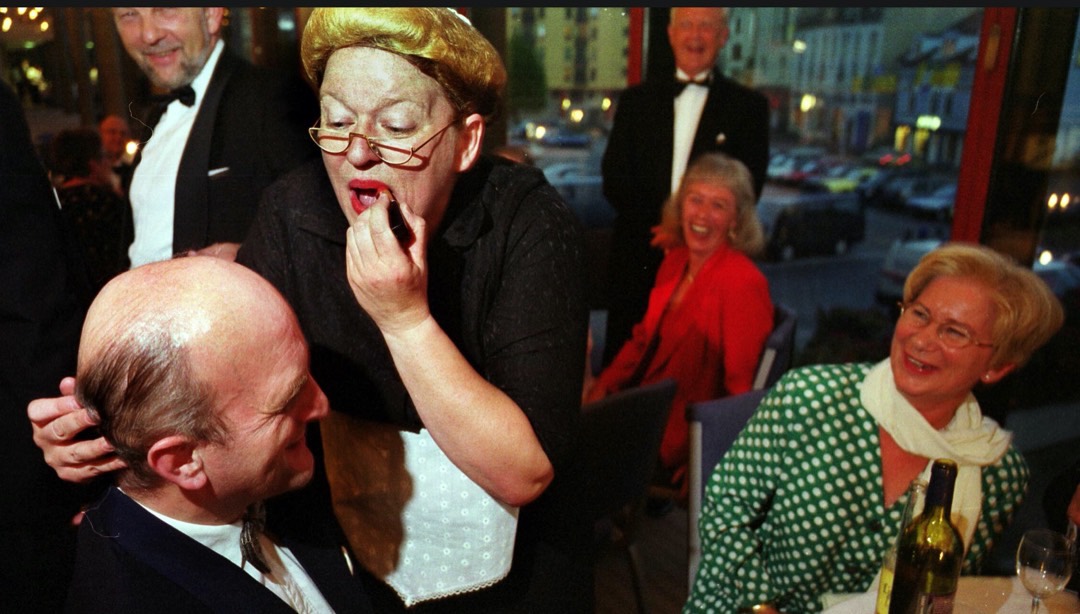 Café Kølbert er nu kommet på alles læber i Bergen.
Ikke bare hos de 1.500 gæster, der overværede åbningen af festivallen i Grieghallen, men også rundt om i byen, hvor tjenerne optræder ved forskellige arrangementer.
Ikke mindst får serveringsteateret en flot omtale i de norske aviser. Bergens Tidende skriver blandt andet: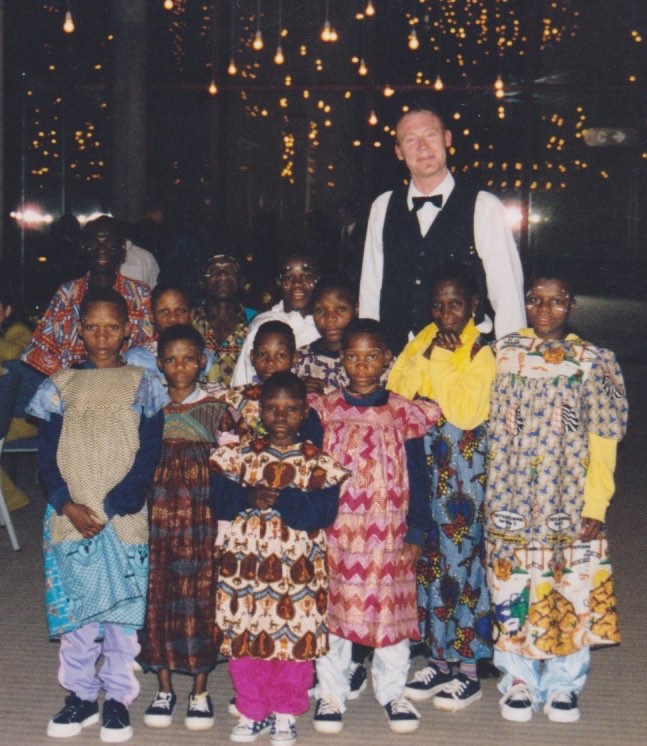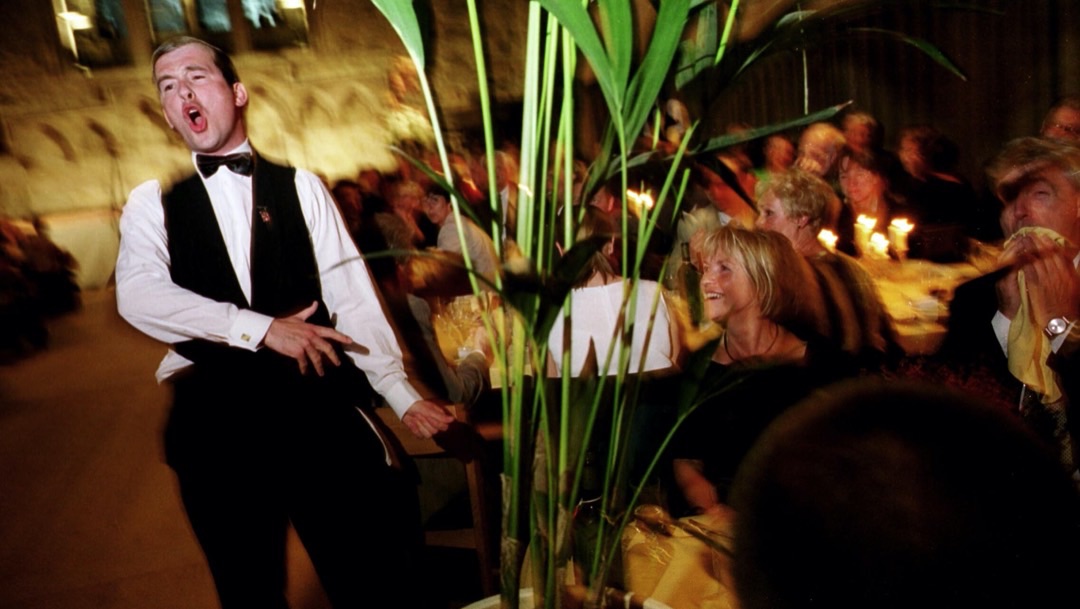 "Den højtidelige åbning var mere uhøjtidelig og original end nogensinde", siger de som har været med gennem flere år.
For mens publikum ventede på kongeparret, underholdt de danske tjenere i Café Kølbert med Tarzanhyl, to planter og en guitar …
til publikums store overraskelse. Og glæde.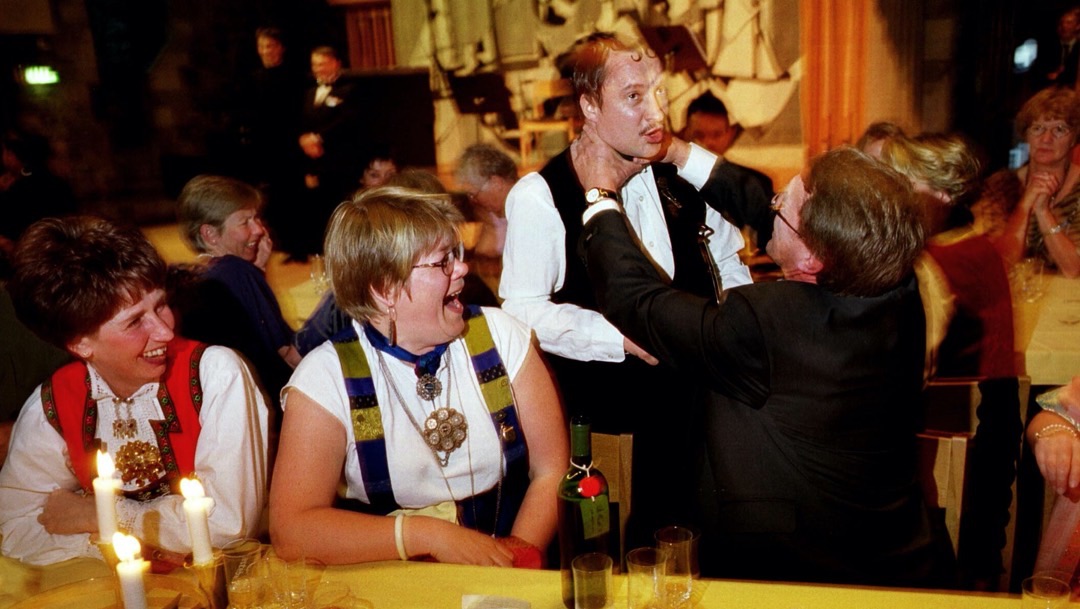 En lederskribent opfordrer ligefrem til, at Café Kølbert skal overtage Torgallmenningen, der er byens nyrestaurerede og centrale åbne rum.
Ifølge skribenten er tjenerne det led, der kan hægte kultursnobbernes tumleplads sammen med folket.
Café Kølbert er selvsagt meget glade og stolte over nordmændenes begejstring, men kongens håndtryk er absolut højdepunktet blandt oplevelserne i Bergen.
"Han vinkede oven i købet til os, da han kørte væk i sin amerikanerbil" fortæller overtjener Kalsbøll, der fortsatte serveringen i går eftermiddag med spontane indslag rundt om i gadebilledet og i aftes i Håkonshallen ved en "gastromusisk" middag.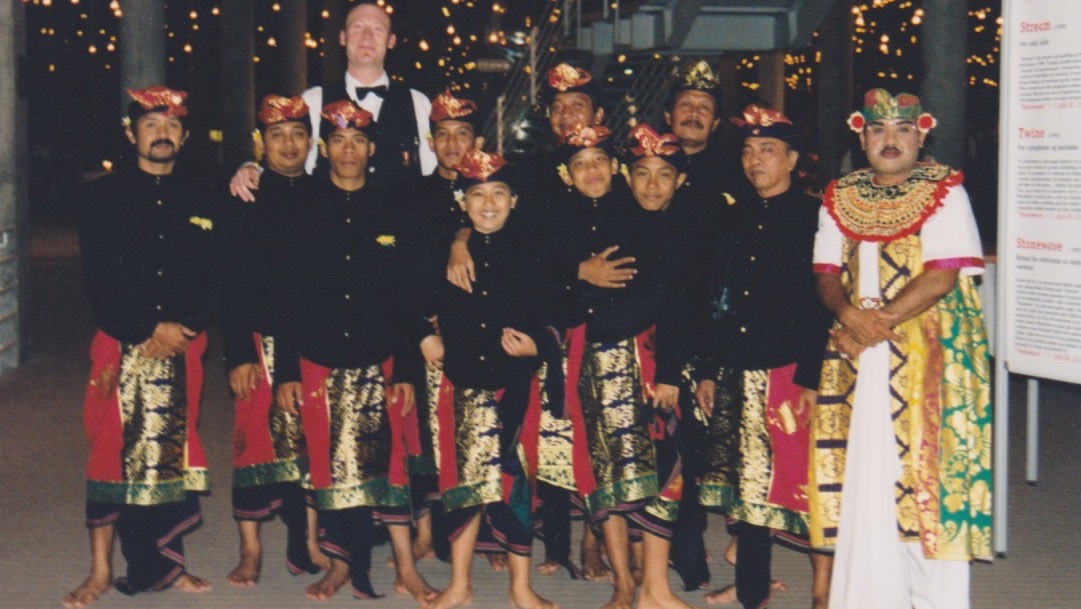 Morgenavisen Jyllands-posten den 26. maj 2000
af Lisette Arent Greve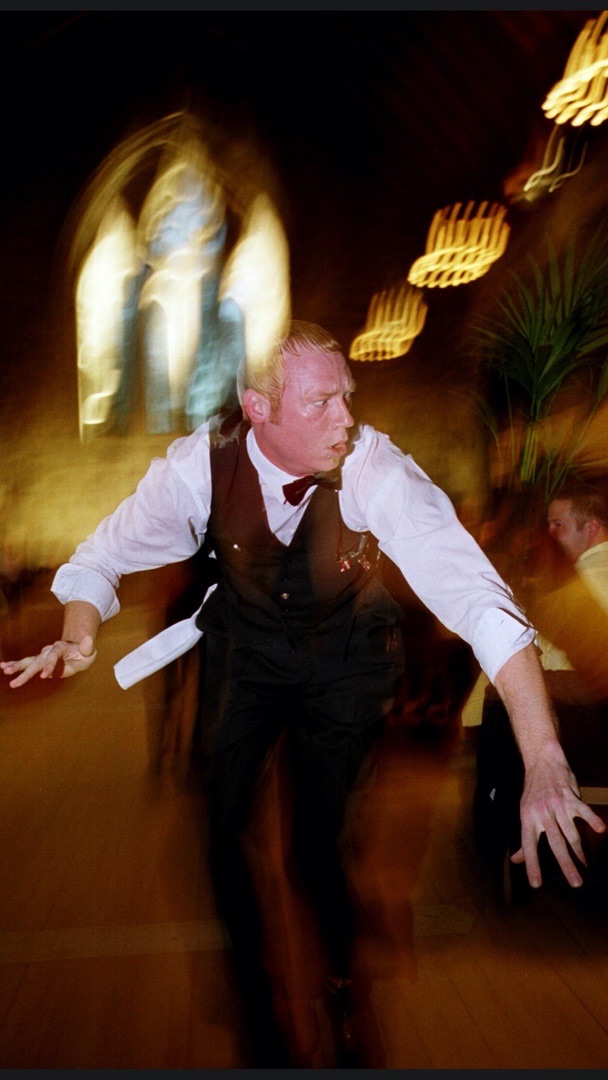 "Festspillene i Bergen vil med dette få takke dere for en flott innsats i forbindelse med årets festspill. Arrangementerne både i Grieghallen, i Håkonshallen og i Bergens gater ble meget vellykket, takket være de gode kelnere fra Café Kølbert!
Hjertelig tusen takk!"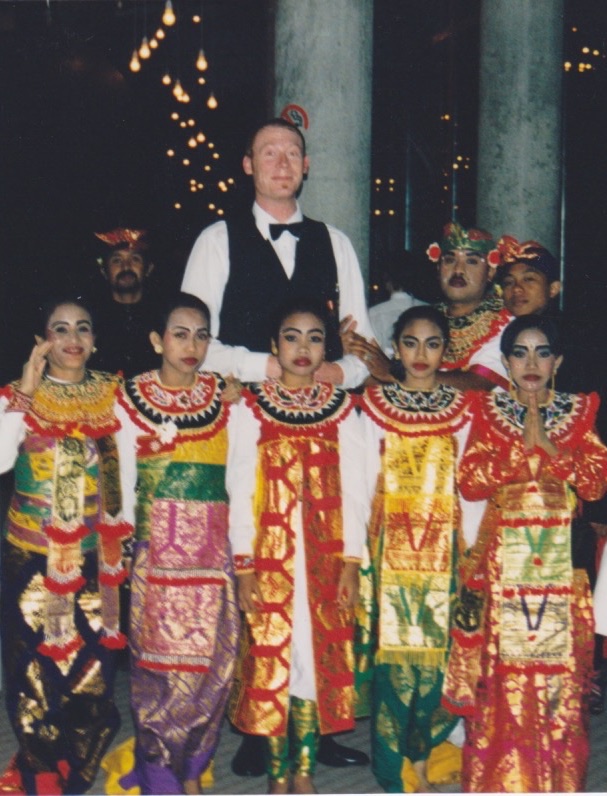 Der var mange forskellige nationaliteter til Kongens reception. Udover pygmæer, indere, nordmænd og danskere, var også disse indianere rejst til Bergen langvejsfra.